Automatically Transition Between LvB and Self-Fulfillment
Occasionally, when restocking your bol.com LvB inventory, logistical delays may cause a longer wait before items are available at the bol.com warehouse. To avoid sales losses due to out-of-stock products, Stockpilot can automatically switch items to self-fulfillment - FBR (Fulfillment By Retailer) when the LvB warehouse stock reaches 0. This enables sales to be fulfilled from your own warehouse. Once items are back in LvB stock, Stockpilot will automatically revert to LvB - FBB (Fulfillment by Bol). You will receive email notifications during these transitions, keeping you well-informed about the process.
To activate this feature, first head to your bol.com warehouse. You can access it by navigating to Channels in the top menu bar and then clicking on Manage for your bol.com channel.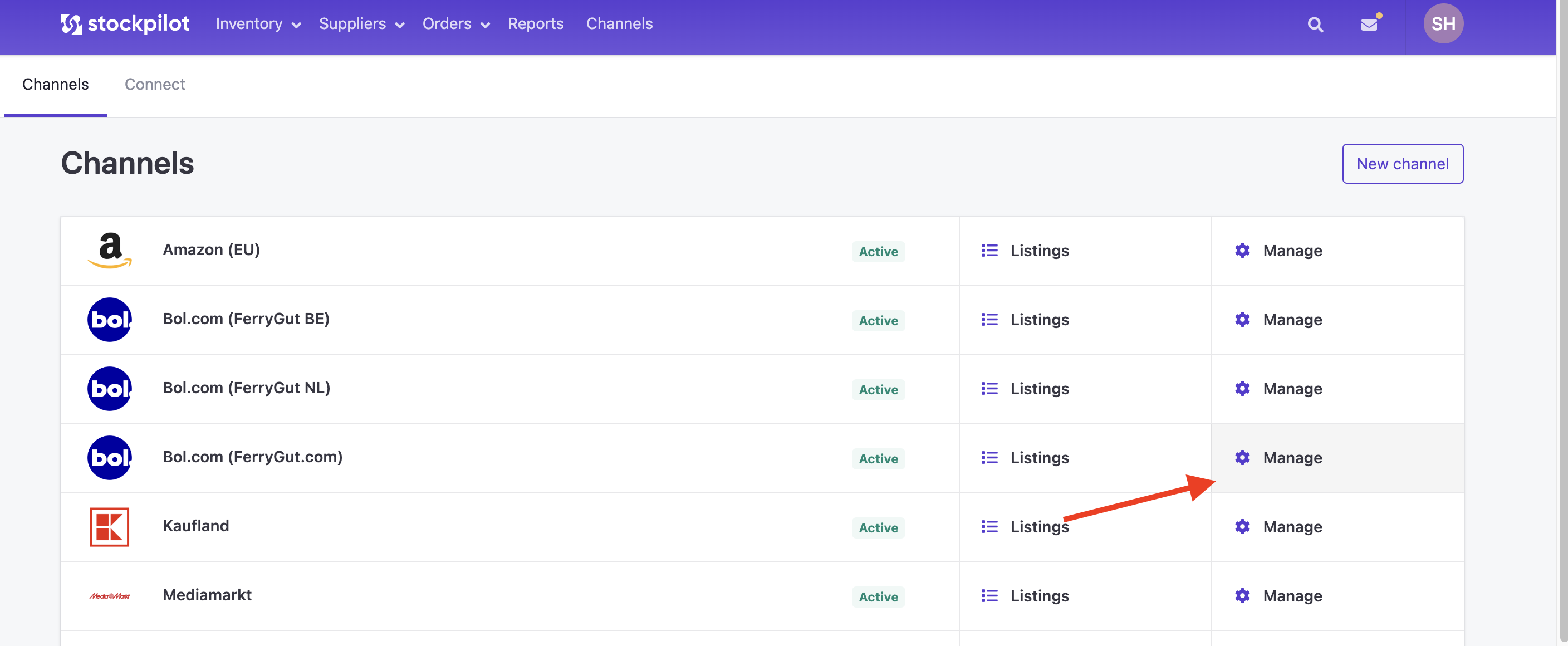 From the Manage Channel page, you can easily access your bol.com warehouse by clicking on the name.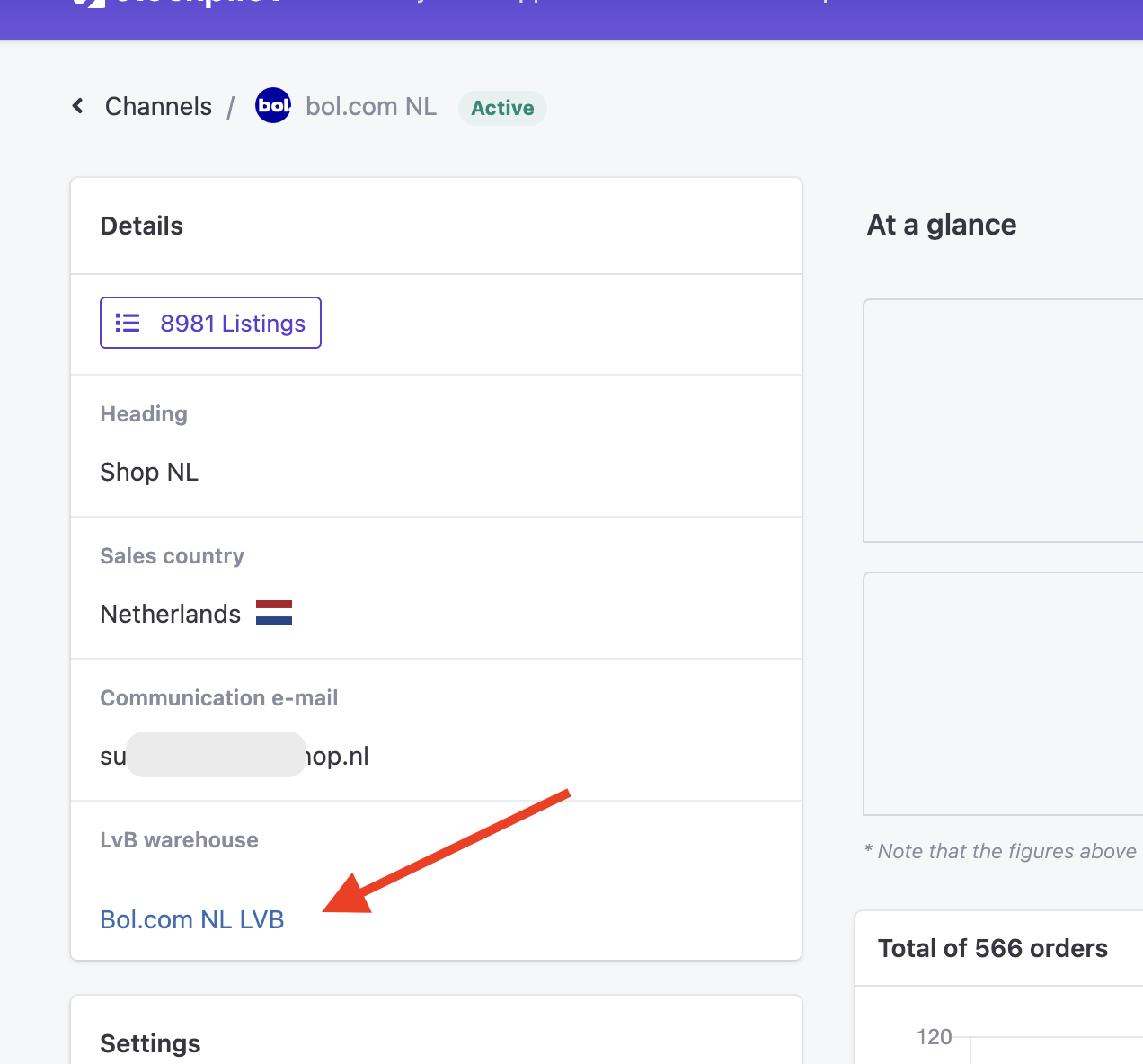 For each warehouse item linked to your stock, you will notice a toggle switch displayed.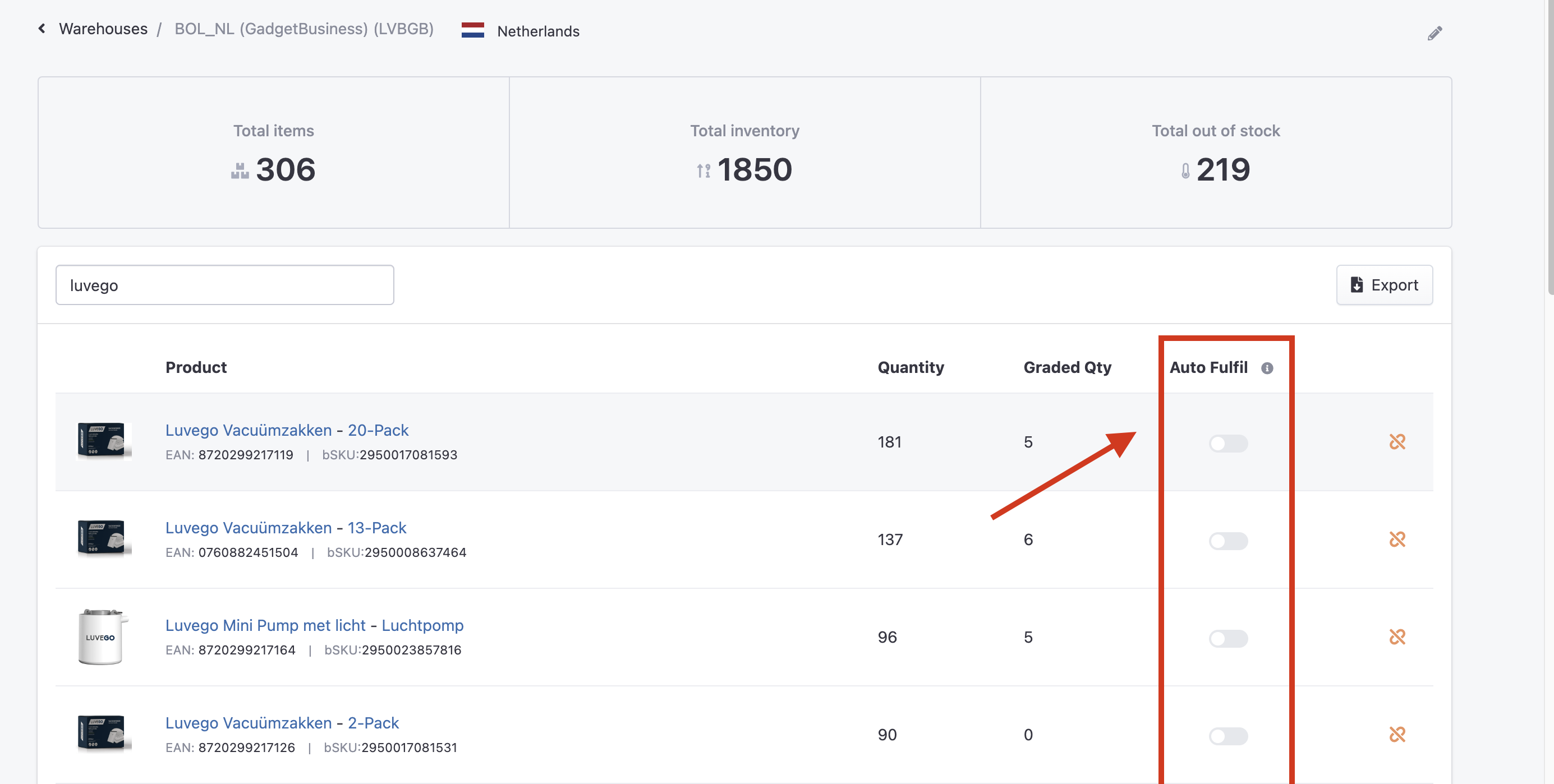 Keep in mind that if Stockpilot has not automatically connected an item to your stock, a dash will be displayed instead of the Auto-fulfil switch. To manually connect the item, click the blue link icon on the right. A pop-up window will appear, allowing you to locate the item and click Connect.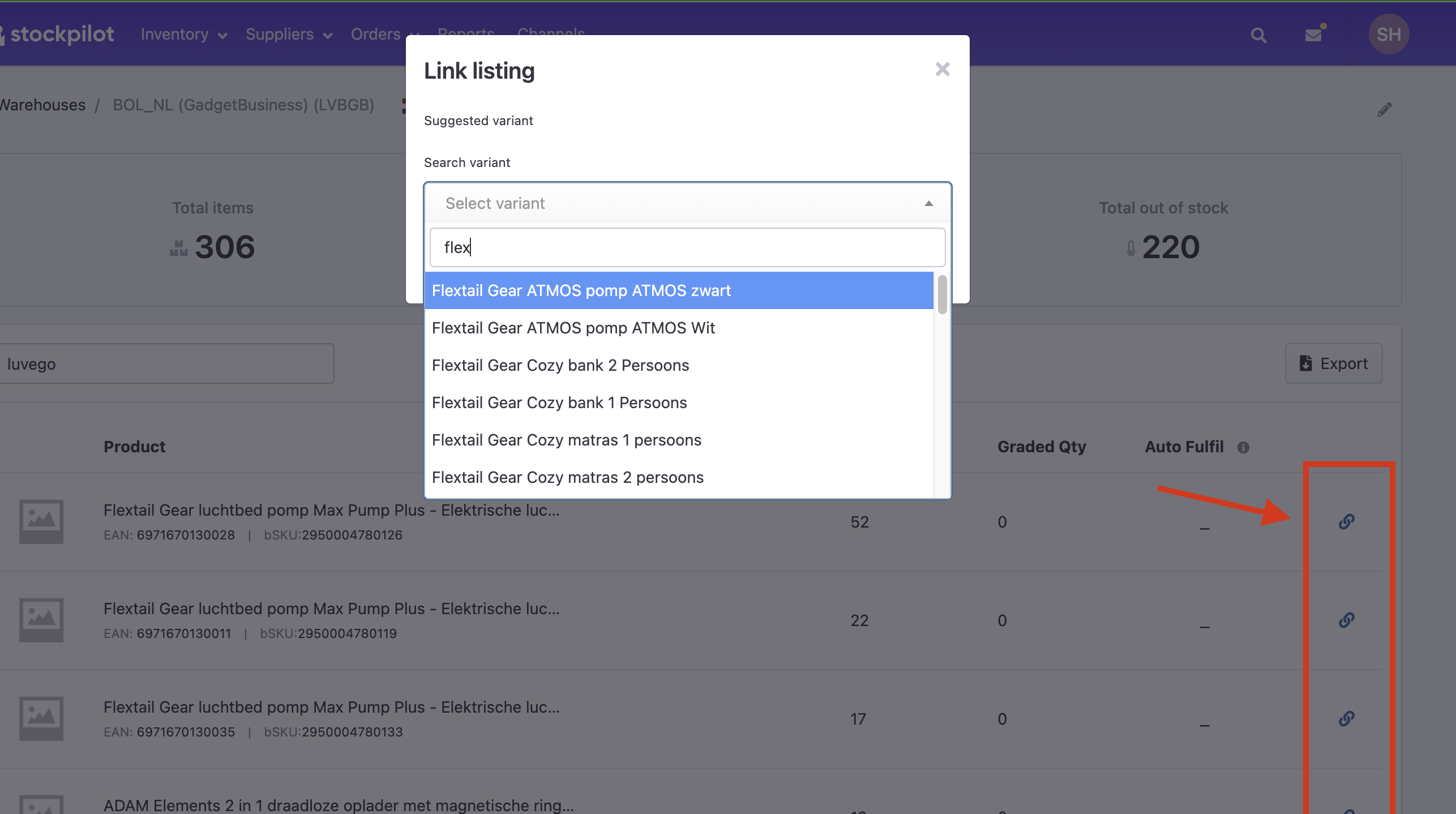 After enabling the Auto-fulfill feature, Stockpilot will continually monitor the LvB stock level for that item. If the item goes out-of-stock, it will automatically switch the listing to self-fulfillment, and you will be notified via email.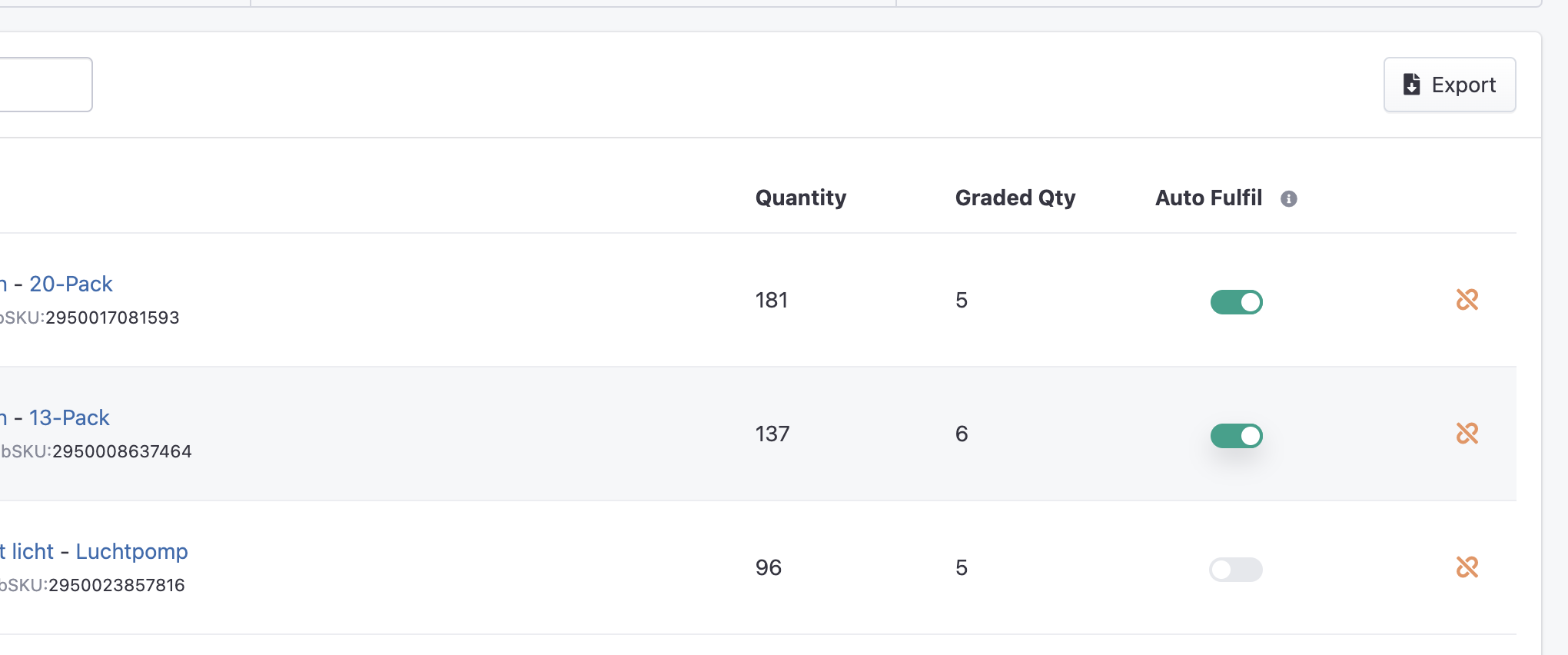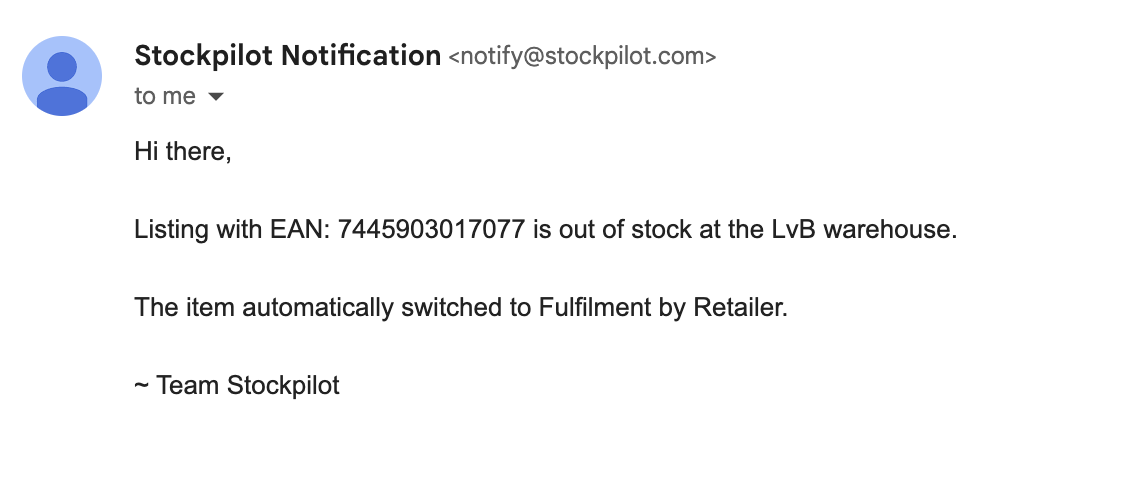 When the stock level is replenished at the bol.com warehouse, Stockpilot will automatically revert to LvB fulfillment and send you a notification email to keep you informed.

We hope this article has provided you with a clearer understanding of Stockpilot's automatic fulfillment method switching feature based on inventory levels. If you require further assistance, don't hesitate to reach out to us through chat, email, or phone. We're always here to help!
---